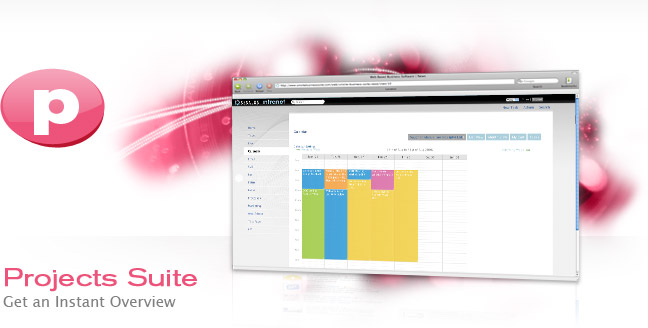 The Project Suite delivers dashboard overviews of your company's projects. The dashboard allows you to set tasks and projects for the staff you manage. Each staff member has their own personal dashboard view of the tasks assigned to them and their calendar (Calendars are easy to use, aesthetically pleasing and provide month, week and list views).

Project Managers and are able to provide basic progress reports on all projects which are updated by staff as the work is completed.

"One to Many / Many to One"
Tasks are linked to calendar events providing accurate time management based on the 'Getting Things Done' principle. Tasks and calendar events have a powerful 'one to many/many to one' relationship basically bringing the power of 'batching tasks' to the Projects Suite.
All changes on a calendar trigger email notification to the staff member and the person booking the time which keeps in line with the Real Time nature of the Project Suite. i.e. As changes are made to project schedules all relevant parties are instantly notified.